Recipes from Our Kitchen
Gretchen's Bacon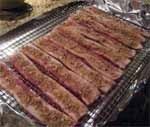 When we purchased the Inn, one of the first questions we were asked by several return guests was "you're not planning to change the bacon are you?". Our response? Of course not! With a tip of the toque to Gretchen Huffsmith, one of Engadine's former owners and its chef during her tenure here, this is the recipe for her famous Apple Wood Smoked Bacon with Brown Sugar and Pecans.
Ingredients:
One pound thick cut apple wood smoked bacon
Brown sugar
Pecans, finely chopped
Directions:
Preheat oven to 350 degrees. Using a baking pan with a rim, line the bottom with foil (to catch the drippings). Top the baking pan with a cookie cooling rack. Spread the bacon slices side by side on the cooling rack. Sprinkle with brown sugar and pecans. Using a fork, slightly separate the slices from one another. Place the baking pan in top third of the oven. Bake for 15 minutes. Remove the pan from the oven, rotate 180 degrees, return to the oven and bake for an additional 15 minutes. Remove and allow to cool before serving. Serves 5-6. NOTE: Cooking the bacon using this baking method will insure that it remains flat (vs. curling after frying).
---
Cousin Leslie's Tuscan Spiced Breakfast Strada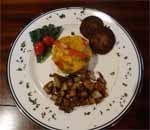 My cousin Leslie is one heck of a cook! When we bought Engadine, she quickly observed the need to prepare breakfast dishes that are tasty and that will serve a crowd! Then she went on to share a recipe that has become a guest favorite. It's a savory dish smells wonderful as it cooks, looks great on the plate when served and that tastes great!
Ingredients:
Two bags (60 ounces) frozen Or-Ida Shredded Breakfast Potatoes
Twelve Large eggs, scrambled
One large green bell pepper, chopped
One large red bell pepper, chopped
One small package sliced mushrooms
One medium white onion
One 16-ounce bag shredded sharp cheddar cheese
One large tomato, diced
One quarter cup heavy cream
Two sprinkles of Tuscan seasoning
Two sprinkles of Greek seasoning
Salt and pepper, to taste
Optional- one pound of mild sausage, cooked
Directions:
Prepare the night before: Grease a 9″ x 13″ baking dish with butter or cooking spray. Cook the shredded potatoes according to the instructions…should be well browned. When cooled, spread the potatoes on the bottom of the baking dish to form a crust. Sprinkle with Greek seasoning. Separately, sautee the green and red peppers with the onion and mushrooms…about 10 minutes. When cooled, spread the mixture over the potato crust. Next, add the scrambled eggs and top with the cheese layer. Garnish the top with the diced tomatoes and sprinkle generously with the Tuscan seasoning and salt and pepper to taste. Cover with foil or plastic wrap and refrigerate overnight.
Cooking:
Remove the strada from the refrigerator and allow to come to room temperature…about an hour. Preheat oven to 350 degrees. Cook for 45 minutes, checking the firmness and the cheese topping occasionally. The strada is done when the top is bubbling and the cheese is beginning to brow. Remove from oven and serve hot by cutting pieces using a 3-inch circular biscuit cutter (the strada should "stand" as a column). Serves 10-12.
Guests' Favorite Recipes From Our Kitchen
We're often asked about whether or not we will share recipes from our kitchen for some of the food we serve at Engadine. Of course we will! It makes us happy that guests enjoy our cooking and are pleased that they might want to share their gastronomic experience with their own families and friends. Some of our most requested recipes are listed below. But if you don't see your favorite, let us know! We'll be glad to share!!!