May 26, 2021
Summer Shorts
Posted by: Rick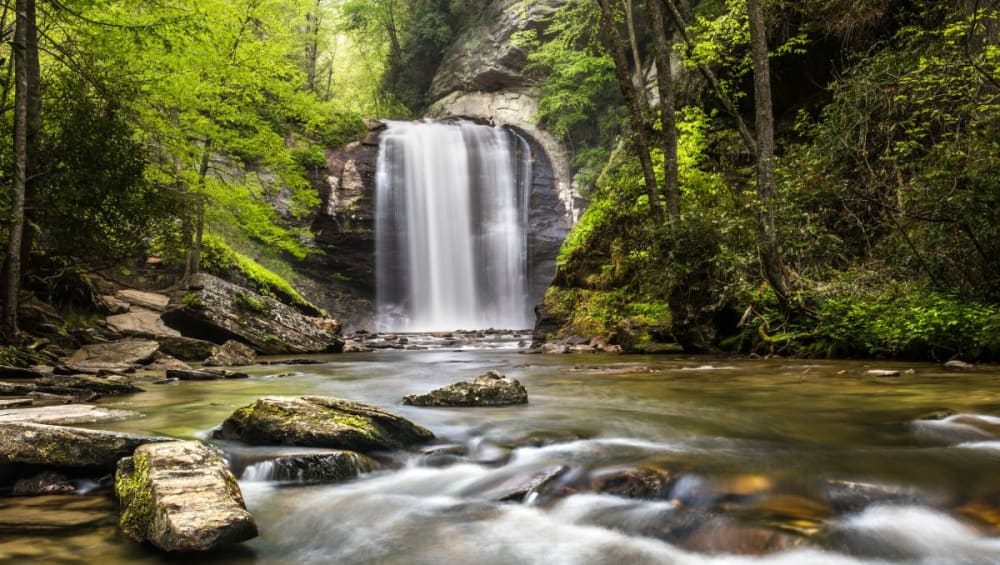 As the "unofficial start of summer" approaches this weekend, it occurred to me that this might be a good time to pitch a few "short" ideas for packing your "shorts" and coming to the mountains to cool off for a weekend (or weeklong!) stay.
So, here goes…
Best Hikes Near Waterfalls*-
Dupont State Forest- This 3-mile loop trail that takes hikers past 3 of the most famous waterfalls…High Falls, Triple Falls and Hooker Falls, famous as a location setting for many movies and TV shows.
Catawba Falls- 3 miles round trip, hikers will enjoy one of the most picturesque trails in the area, a trail that follows the Catawba River, crossing it several times, and offers several smaller cascades before reaching Catawba Falls
Best Swimming Holes-
Sliding Rock- Located just off of US 276 and near the Blue Ridge Parkway, Sliding Rock has been a favorite of kids of all ages for generations.
Looking Glass Falls*- Also located along US 276, the pool at the base of Looking Glass Falls, NC's most photographed waterfall, is a great place to take a dip and to take in some sunshine on the rocks that surround it.
Best Brewery Tours-
New Belgium- Overlooking downtown Asheville from its perch above the French Broad River. New Belgium is neighbor to the River Arts District and home to its "Liquid Center" tasting room an outdoor venue where they host concerts and movie nights under the stars.
Sierra Nevada- Located south of town in Mills River along the French Broad River, Sierra Nevada's east coast facility is an impressive and offers tours along with a restaurant and large tap room.
Best Baseball-
Asheville Tourists- Asheville's version of "the boys of summer" play all summer long at historic McCormick Field in Downtown Asheville, adjacent to the city's "South Slope" which is home to many micro-breweries and trendy restaurants.
Best Barbecue-
Bear's Smokehouse Barbecue- A newcomer to Asheville (but already one of our favorites!), Bear's is only a couple of blocks from McCormick Field, making it a great stop before or after a Tourist's game.
Buxton Hall- Located in the South Slope area and also near the stadium, Buxton Hall is one of Asheville's James Beard Award winning restaurants.
12 Bones- Known as an "institution" in Asheville, 12 Bones continues its tradition of serving up great BBQ from its new location in the River Arts District where you can also take in the home of Asheville's artist community and a few really cool micro-breweries and coffee shops.
Going casual is cool here in Asheville and we hope you'll make plans to make Engadine your summer home while enjoying the great outdoors in our neck of the woods! Give us a call to make reservations or BOOK DIRECT at our website!!!
*SAFETY REMINDER: Never be tempted to wade or swim in water above any of the area's waterfalls. The water usually flows faster than you think and the rocks that line the bottom of the streams can be extremely slippery. The risk of injury (or even death) is significant if you are swept over the falls!!!