September 3, 2013
Engadine Vineyards at Honey Hill Inn and Cabins
Posted by: TOM WATSON
Our 12 acre property at Honey Hill Inn and Cabins is rich with history, beginning with the construction of Engadine, our 1885 Queen Anne Victorian mansion. Captain John Keais Hoyt named his home "Engadine" because the mountains surrounding his property in western North Carolina reminded him of the mountains surrounding the Engadine Valley in Switzerland.
Before the Captain began construction of Engadine, he planted red and white varieties of grapes on the hills behind the mansion. He also built a winery, which was located where our vintage barn now stands.
The entire family was involved in the business. The Captain, Mrs. Hoyt (Molly) and their daughters bottled, labeled and shipped Engadine Wine by rail all over the country. They also sold Engadine Wine to many hotels in Asheville and to the Vanderbilts. Mary (Mamie), their youngest daughter, also helped in the vineyards. This is Mamie posing in front of the vineyard with the backdrop of the mountains so loved so much.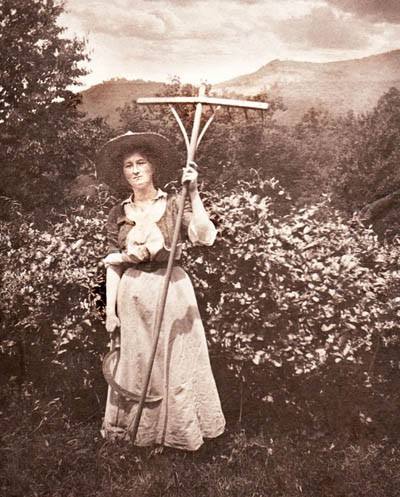 Mary (Mamie) Hoyt
Engadine, Summer 1902