November 18, 2013
29th Annual Biltmore Candlelight Christmas Evenings
Posted by: TOM WATSON
Biltmore Candlelight Christmas Evenings – The Nature of Christmas
Now through January 4, 2014

The Biltmore Estate is a destination for many travelers to the Asheville area. Christmas is the most popular time for visitors when the estate is decorated with one of the largest holiday displays in the Southeast. Candlelight Evenings in the Biltmore House are an added attraction during the holiday season when guests experience the hundreds of lighted trees in and outside the house as well as carolers, live music and the warm glow of the many lighted fireplaces and candles.
Biltmore House embraces "The nature of Christmas" during this year's Christmas season. Guests enjoy a self-guided evening visit of Biltmore House that takes them through four decorated floors of the house as firelight and candlelight fill the house with a warm glow and accent delicate ornaments. Live music is performed during the evenings throughout the first and second floors.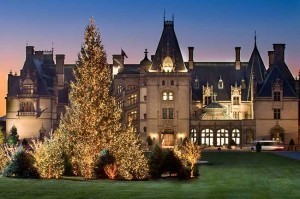 Booking Candlelight Christmas Evenings
If you want to visit the estate for one day and attend Candlelight, it is best to reserve your tickets directly through Biltmore in advance of your visit. Visit their web site for details: www.biltmore.com.
Attending Candlelight Christmas Evenings requires a separate entry fee in addition to a daytime ticket, and reservations that are date and time specific.
Daytime tickets purchased directly from Biltmore are valid for one day. If you want to spend two days on the estate, or don't reserve your Candlelight visit in advance, the Biltmore Daytime ticket you purchase from us for $60, which is good for two consecutive days, can be upgraded to a Candlelight Evening ticket for an additional $15. You can purchase your upgrade at any guest service station on the Estate when visiting during the day,but your request for an upgrade will be based on availability at the time. We strongly advise that you plan your visit in advance!
Candlelight Christmas Evenings are not available on the following dates:
Tuesday, November 26
Thursday, November 28
Tuesday, December 24
Wednesday, December 25