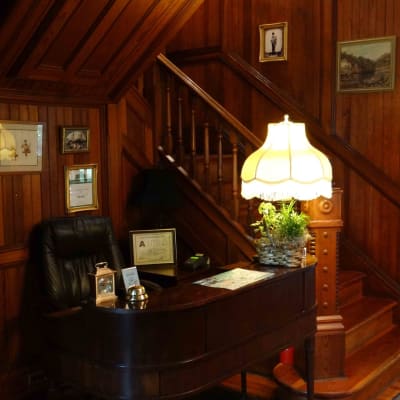 About Engadine Inn, Cabins and Venue
About Our Asheville Inn
The Inn, originally named Engadine by its builder, Civil War Captain John Keais Hoyt, is an 1885 Queen Anne-style Victorian home. Engadine is on the National Register of Historic Places and has been restored and decorated to maintain its Victorian character and charm. It was converted to an inn in 1994 and has operated as one ever since.
The five guest rooms are spacious, comfortable and provide the elegance of a Victorian home along with such modern conveniences such as central heat and air conditioning, ceiling fans, free wi-fi and flat screen televisions with cable TV. All rooms have sitting areas, private baths, and gas fireplaces (operated seasonally). The Engadine Suite on the third floor features a separate sitting area and a large bathroom with a whirlpool tub for two. All rooms in the Inn are reserved for adult guests.
After arriving, feel free to relax in our spacious living room or on one of the Inn's two wrap-around proches. Both are comfortable places to meet other guests or spend time with your travel companions. And if you enjoy the out-of-doors, feel free to stroll the grounds or to enjoy the view from "Honey Hill," our west-facing outdoor event venue. Honey Hill is a great place to enjoy sunset each afternoon (we suggest that you arrive no later than one hour prior to actual sunset for the best sunset experience).
Beverages and snacks are available in the second floor common area. Start your morning with an assortment of indiviudally brewed coffee or teas while you are preparing for your day. In the late afternoon or evening, help yourself to a beverage and a freshly baked sweet treat.
Each morning at 9:00 am, guests of the Inn will enjoy a two-course, chef-prepared gourmet breakfast served in the dining room. Our breakfast includes a seasonal fruit course followed by a hot entree with traditional sides. When preparing breakfast, we stirve to source and use fresh locally grown produce and products. We also do our best to accommodate special dietary requirements, so please tell us of your needs when making your reservation and/or checking in.
---
About Our Asheville Cabins
Engadine offers six cozy and comfortable cabins situated on a hilltop overlooking the Inn. All of our luxury Asheville cabins are self-contained with bedroom(s), fully-equipped kitchens, living areas, bathrooms, porches and charcoal grills. Each of the cabins also has a wonderful view of the surrounding Blue Ridge Mountains.
With the exception of the Cherokee Cabin, all of our Cabins are family-friendly and three are also pet-friendly.
Cabin guests have the option to join guests of the Inn for breakfast for an additional cost and based on availability. Depending on our guest count, seating is sometimes offered at a "chef table" in the kitchen (some guests tell us they prefer to be seated in the kitchen!).
Since each Cabin has a unique floor plan and/or setting, please see the photographs and descriptions detailed in the lodging section of this website
---
About Our Asheville Event Venues
Engadine offers two outdoor, open-air venues for hosting weddings and events.
"HoneyHill" (6,500 square feet...accommodating up to 150 people) is west facing and offers a spectacular view of Thompson Knob and the mountain range across Hominy Valley. It is particularly beautiful at sunset.
"Vineyard Overlook" (4,500 square feet, accommodating up to 150 people) is north facing with soothing views of the meadow behind the Inn and the range of mountains to the north.
In addition to the beautiful views, each space also features a wood burning fire pit. Use of the fire pits can be, at times, subject to local requirements regarding open fires.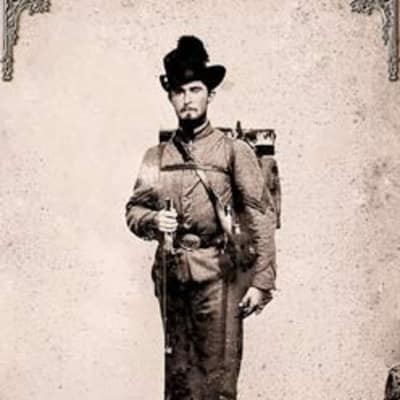 History
History of Engadine in Candler, NC
Engadine was built by Captain John Keais Hoyt, a former Confederate Officer in Company K, 3rd Alabama Infantry in Stonewall Jackson's Brigade. When the Civil War ended, Captain Hoyt made his way to western North Carolina just outside of Asheville with his wife Mary Bensel Hoyt, and their four daughters. They lived in a cabin on the property while the mansion on the hill was being built. In 1895 they moved into the house, which the Captain named Engadine because the area reminded him of the Engadine Valley in Switzerland.
Engadine was built incorporating the most modern technology of its time. Although the house had fireplaces in every room, central heat was provided by a coal furnace in the basement. Electricity was supplied to the house by a water-powered generator built on the property. Running water was provided by servants, who pumped it to a storage tank in the attic. From there, the gravity-supplied system provided water to sinks contained in closets between each of the bedrooms on the second floor. One of these water closets are still in use today.
Captain Hoyt planted grapevines behind and next to the mansion and became a successful vintner. His winery, where he made his famous Engadine wine, originally stood in the location where the barn is currently located. Engadine Vineyards sold wine to the Vanderbilts (Biltmore Estate), the Battery Park Hotel in downtown Asheville, and other local customers. Engadine wine was also shipped by rail to customers all over the country. Early Prohibition brought a swift end to the Captain's beloved wine business, but one of the his original grape vines still grows on the grounds.
After the Captain's death in 1910, the house was sold to E. J. Willingham who was a land speculator from Georgia. He sold the house to Alden Betts who was from New Jersey and used Engadine as a summer home. In 1944, Glenn and Stella Howell bought the house and raised their family at Engadine. In the process of restoring the house, the Howells tore down the three-room addition that housed the original kitchen, and the kitchen was moved into what is now the Inn's office.
Engadine began its transition to an Inn in 1988 when Bill Maddox and Linda Crawford purchased Engadine and restored and modernized the house. The plumbing, electrical and heating systems were replaced; central air conditioning and a new kitchen was added. In 1994 Linda Crawford converted the house to a bed and breakfast. In the years since then with several changes in ownership, Engadine has hosted visitors from around the world.
In November 2014, Tom Watson and Rick Bell, purchased the property to become the next stewards of the storied property. With a desire to return the property to its historic name, Rick and Tom once again changed its name to Engadine Inn And Cabins (at Honey Hill!) and have begun work to expand the property's offerings, including as a facility for hosting weddings and special events. The entrance drive is being cleared and landscaped to open a view of the mansion from Smoky Park Highway and several sites on the property are being graded to create outdoor event spaces…spaces with dramatic views of the surrounding mountains. Future plans include the creation of an enclosed event facility and the addition of new cabins in the wooded sections of the property along Hominy Creek.
---
Photos
We are fortunate to have copies of photos taken of Engadine and the property from the late 1800s. These are some "then and now" photos of some of the rooms in Engadine. The historic photos were taken by Captain and Mrs. Hoyt's daughter Mary Brickell Hoyt Reese.
Howell Guest Room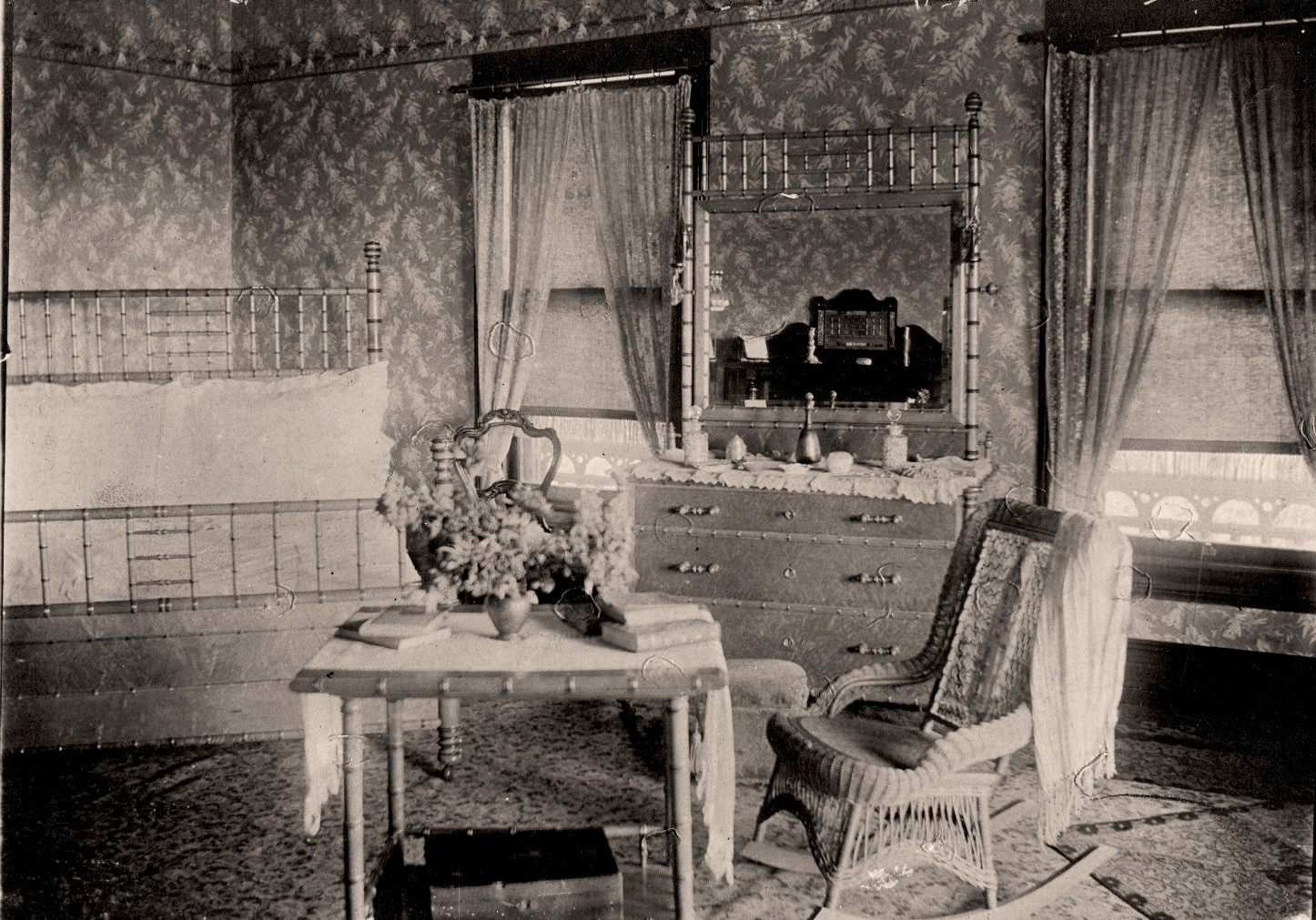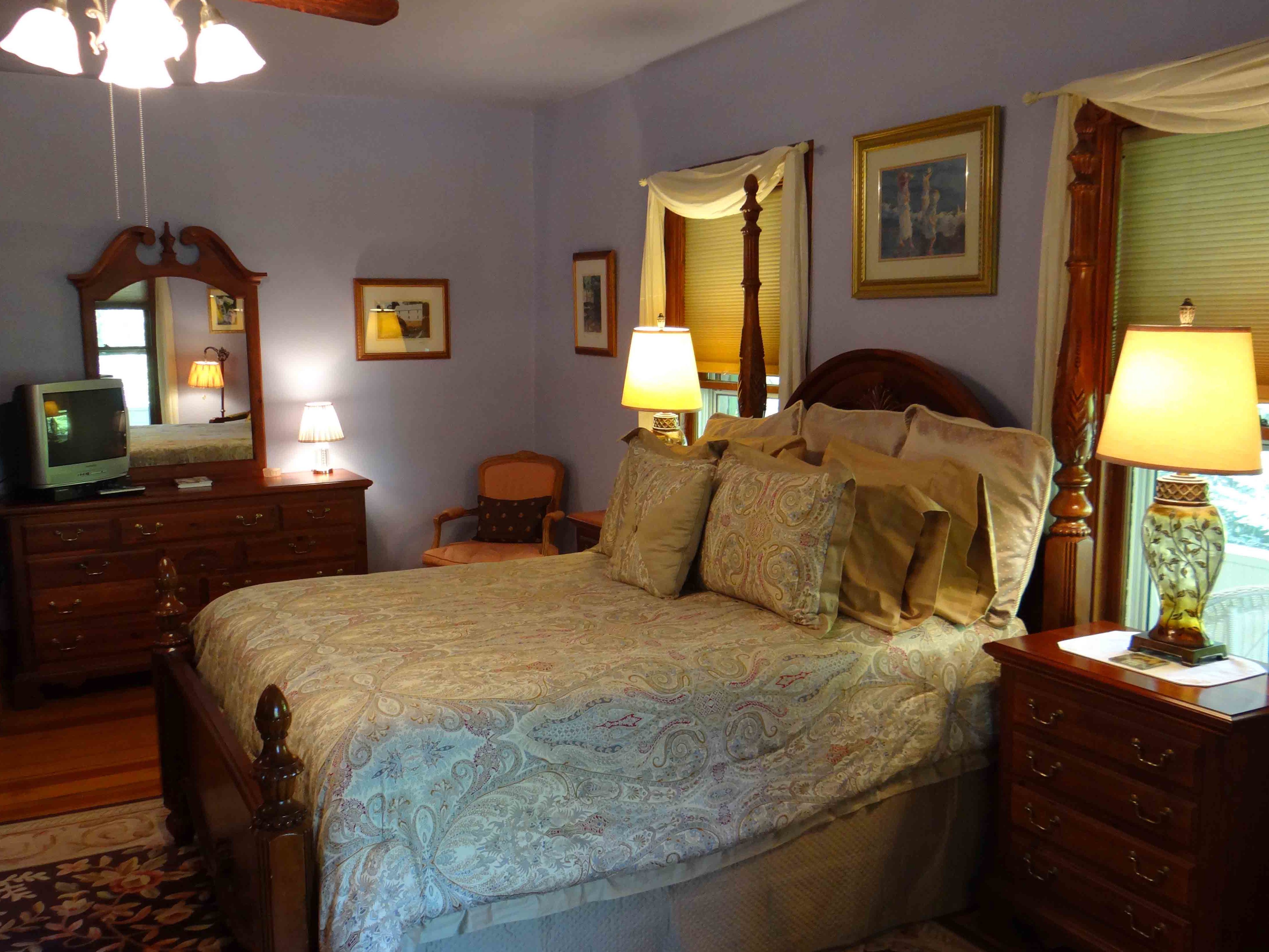 Photo on the left is a bedroom belonging to one of Captain and Mrs. Hoyt's daughters, circa 1900. The photo on the right is the room today, now the Howell Guest Room.
Mary Hoyt Guest Room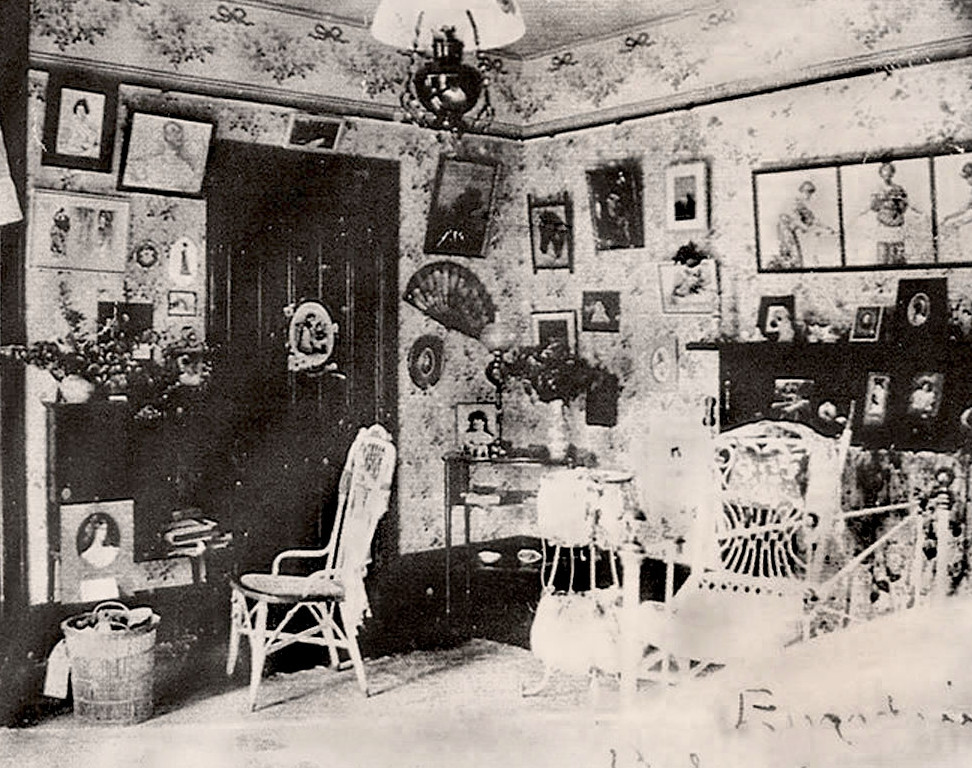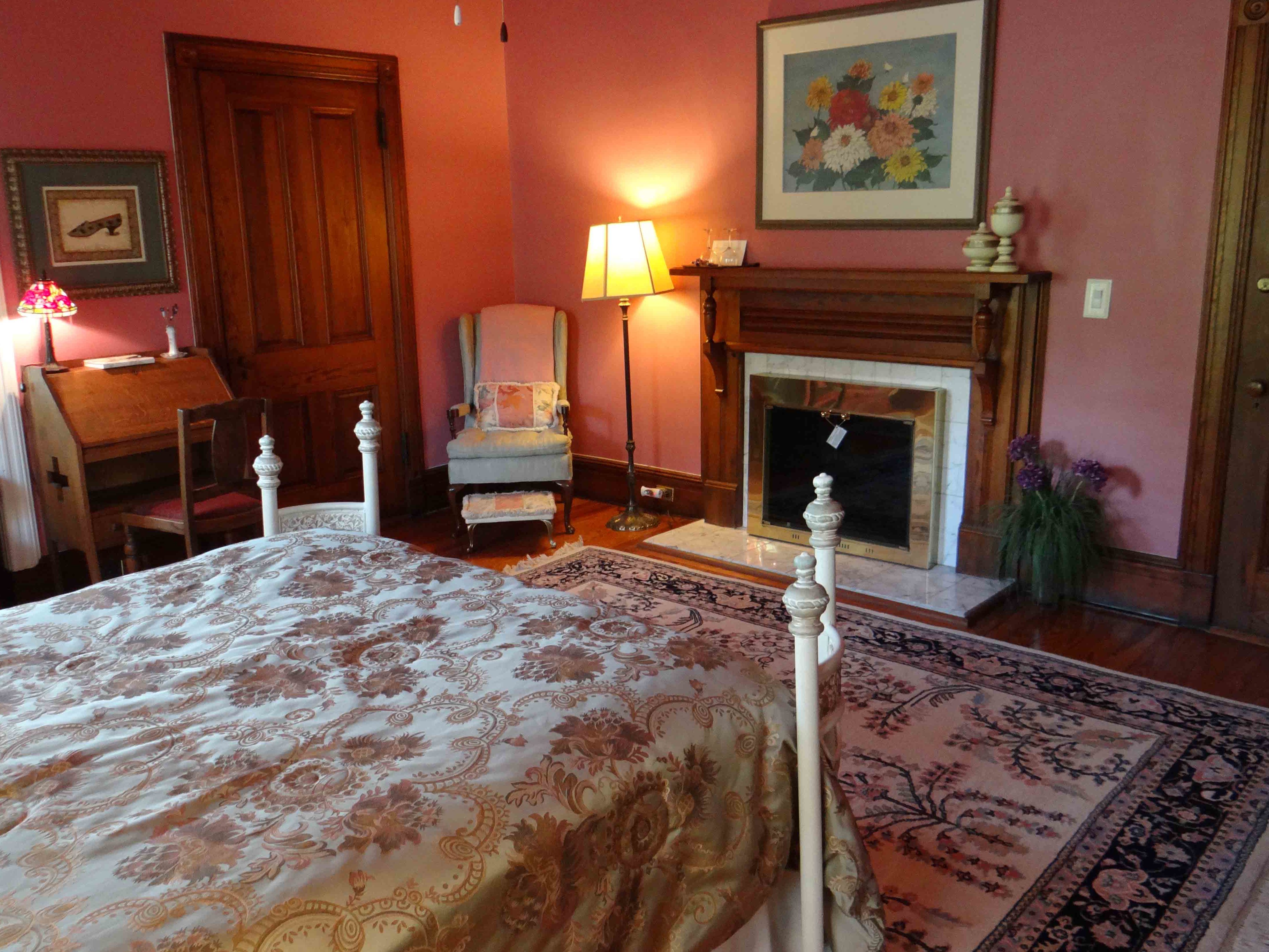 Mary Hoyt's girlhood bedroom, on left, provides evidence that the alcove and closet are original to the house. The photo on right is the Mary Hoyt Guest Room named, of course, for the Captain and Mrs. Hoyt's youngest daughter, Mary.
Dining Room/Library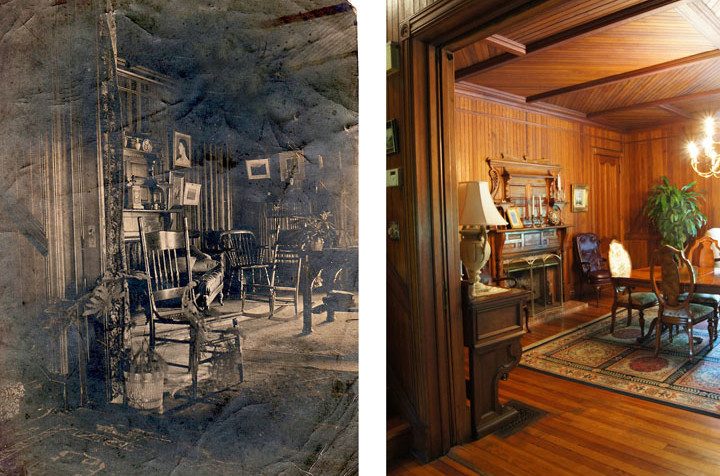 Engadine once had a wing that housed the kitchen and dining room. What we use today as a dining room was originally the library, shown in the photo on left taken by Mary Hoyt.
---
"Engadine: Early Days With The Hoyt Family"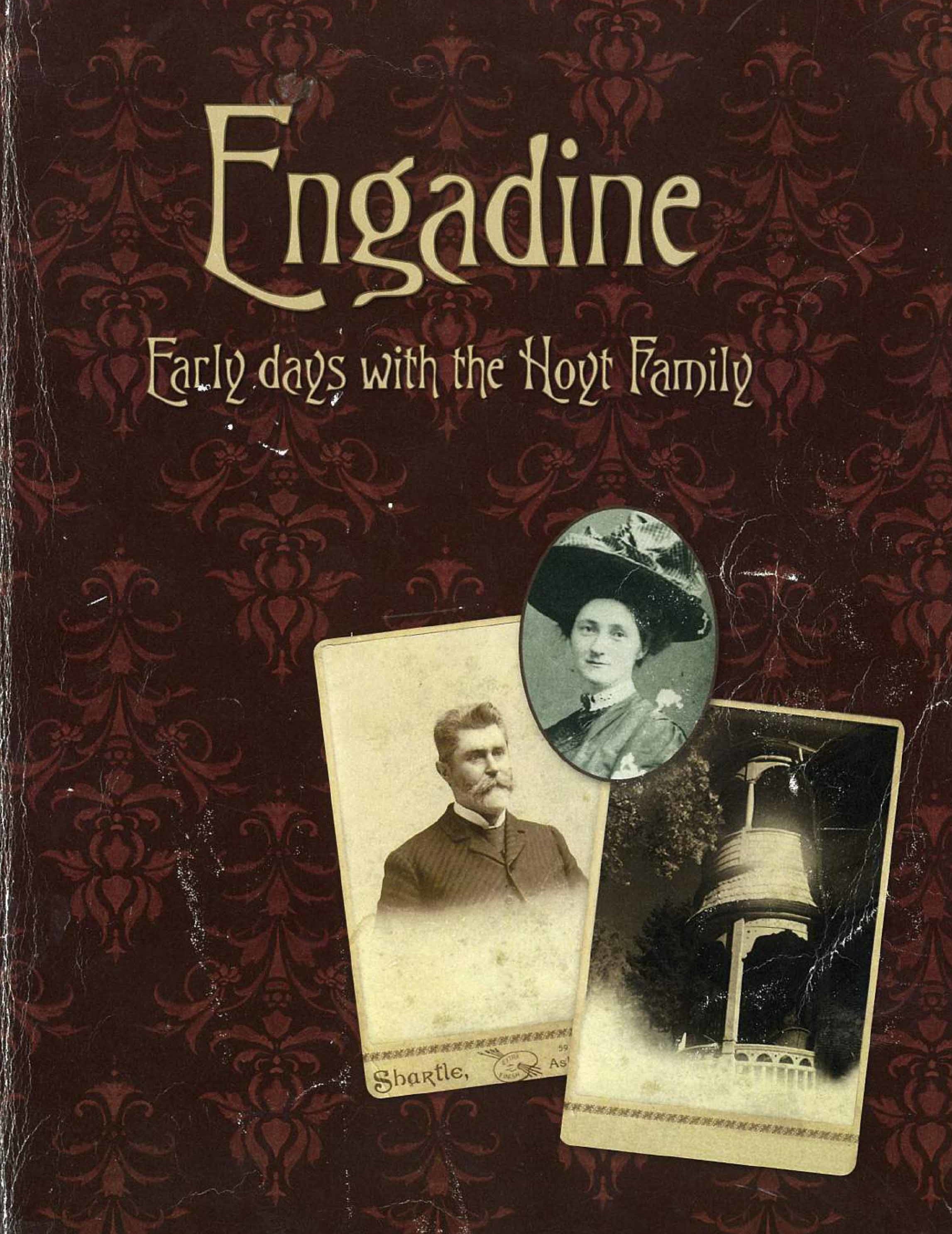 For those of our guests who have an interest in learning more about Engadine, we are fortunate to have one copy of a book written by descendants of the Hoyt family. We have scanned that book and have loaded it here for anyone and everyone to enjoy!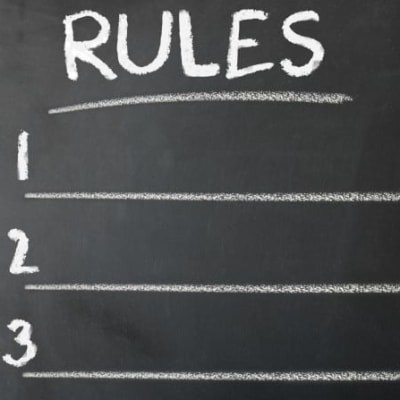 Policies and Information
Room/Cabin Reservation Guarantees
Engadine Inn and Cabins is a unique, privately-owned property where every guest reservation is handled on an individual, personalized and confidential basis. At the time your reservation is made, we require a credit card (we accept Visa, MasterCard and Discover) to guarantee the room or cabin with a fifty percent deposit. For reservations made for stays between October 1 and November 15, a one hundred percent deposit is required. Refunds of deposits will be subject to the cancellation policies listed below.
Standard Cancellations
1. Reservations can be cancelled with no charge within 24-hours of being made.
2. For confirmed reservations cancelled more than 14 days prior to your reserved arrival date, we will charge a cancellation fee of $25.
3. For confirmed reservations cancelled from 7 to 14 days prior to your reserved arrival date, we will charge a cancellation fee equal to one-half of the total room charge at the then-current room rate.
4. For confirmed reservations cancelled less than 7 days prior to your reserved arrival date, full payment for the full stay is expected at the then-current room rate.
5. For no shows or early departures, full payment for the full stay is expected at the then-current room rate.
OCTOBER 1 - NOVEMBER 15 RESERVATION CANCELLATIONS
1. Reservations can be cancelled with no charge within 24-hours of being made.
2. For confirmed reservations cancelled more than 30 days prior to your reserved arrival date, we will charge a cancellation fee of $25.
3. For confirmed reservations cancelled less than 30 days prior to your reserved arrival date, full payment for the full stay is expected at the then-current room rate.
4. For no shows or early departures, full payment for the full stay is expected at the then-current room rate.
A Note About Inclement Weather And/Or Trip Interruption:
As we all know, from time to time Mother Nature can serve up some interesting weather conditions that make traveling challenging! And, at times, there are personal circumstances that create situations requiring changes to travel plans. So, it's best that we let you know now about what our policies and expectations are when such conditions or circumstances arise.
Please understand that your reservation is considered to be a "rain (or snow) or shine" commitment to us. This means that "crumby weather" is, in and of itself, not a sufficient reason to cancel without penalty. The same is true for unexpected personal situations. You are expected to fulfill the full responsibilities associated with your reservation regardless of weather conditions or other circumstances. We do not compromise regarding this policy.
If you have any concerns about meeting this obligation, we encourage you to consider purchasing trip insurance. It is inexpensive, can be purchased easily online and protects your interests during unexpected circumstances that effect your travel plans.
Group/Event Reservation Guarantees And Cancellations
For information on group reservations and cancellations, please refer to our "Events Guidelines" which will be distributed to you during the booking process. If you have questions, please contact Rick Bell at 828-633-1110.
Check-in and Check-out
Our office hours are from 10:00 am until 8:00 pm.
All room accounts will be settled during the check-in process. For reservations made on our website, the balance due after your deposit has been applied can be charged to the card on file or to another card of you choosing. For reservations made and paid for through one of our booking partners (Expedia, TripAdvisor, AirBnB, BedandBreakfast.com, etc.), we require that you provide a credit card to which any additional charges or fees (purchases, optional breakfast charges, pet fees, cleaning fees, etc.) that you may incur will be charged.
Check-in is from 3:00 PM to 7:00 PM. Please call us if you are delayed or expect to arrive later than 7:00 PM. NOTE: If planning a dinner out on your arrival night, we ask that you check in BEFORE proceeding to dinner...please understand that we cannot keep the office open indefinitely as we wait for your arrival! Late arrivals (after 7:00 pm) can be accommodated by appointment only, but you must call us at least 24 hours in advance to make the arrangements. Late arrivals without an appointment are subject to a $50.00 fee.
Check-out is 11:00 AM. Late check-outs may be accommodated on an as available basis. For late check-outs up until 1:00 PM, there is a $25 charge. For check-outs later than 1:00 PM, full payment of an additional night's stay will be charged.
Smoking/Vaping
For the safety and comfort of our guests, smoking and/or vaping is not permitted in the Inn nor in the Cabins. Smoking and vaping are permitted on exterior porches ONLY. Please use the ashtrays we have provided for you.
Damages and Excessive Soiling
At Engadine, we know that accidents and coincidental circumstances sometimes result in damages to our property. In these situations, we understand and accept that there was no intent and, as a result, will repair or replace damaged or soiled items at no cost to our guests.
However, in circumstances where there is obvious neglect or malicious intent, we reserve the right to charge offending guests the expenses associated with making right the situation. Following are circumstances where this will be the case:
Please try to leave a tidy Room/Cabin as you depart! During the process of cleaning the Room or Cabin following your visit, we will make note of its condition. Should one of the following be noted, we reserve the right to charge additional fees as noted below:
1. Towels- We ask that the white bath towels not be used to clean mud or dirt from shoes or clothing, removing blood, or for washing cars. Black wash cloths and hand towels are provided for removing makeup...please DO NOT use white bath towels or cloths for makeup removal. In our dog friendly cabins, "dog towels" are provided for wiping muddy paws. If you are planning to visit one of the area's famed "swimming holes," we ask that you NOT use bath towels and, instead, visit the Inn's office to pick up beach towels. For soiled towels that cannot be cleaned- $25 per item.
2. Bed linens- For bed linens soiled with make-up, personal products, blood, vomit or bodily fluids (and muddy paws in pet-friendly cabins)- $25 per item
3. Excessive soiling of room or cabin resulting in extensive cleaning- $250
4. Evidence of smoking or vaping in rooms or cabins- $250
5. Missing items- actual cost of replacement, plus $250
6. Dirty dishes (in cabin kitchens)- $50
7. Damages- actual cost of repairs, one night's charge for each night the Room/Cabin is out of service, plus $250
Charges for these items will be documented by email, with photographs when appropriate, and automatically billed to your credit card on file.
Cabin Kitchen Inventory
Cabins are stocked with cooking and service ware items for preparing and serving meals for the stated maximum number of guests for each cabin. We ask that you NOT move items from your cabin to other cabins. Before departing, we also ask that you wash any kitchen items you may have used during your stay.
Additionally, you are responsible for providing your own cabin provisions. This includes food, ice, coffee (though we do offer cabin coffee and/or continental breakfast options for an additional cost), cleaning supplies, etc. We will be happy to provide directions to nearby grocery stores should you wish to wait until you arrive to outfit your kitchen.
Capacity/Occupancy
Each room and cabin has a maximum capacity (see room and cabin descriptions in the Lodging section of our website). All rooms in the B&B are double occupancy, adults only (18 years of age and older). Cabin rates are based on double occupancy, unless otherwise stated in the cabin description. Additional guests can often be accommodated in cabins at an additional cost ($25 per person per day for additional guests 12 years of age and older…there is no charge for children under 12).
Children
Our bed and breakfast Inn is reserved for adults only. Children of all ages are welcome in our five family-friendly cabins, however. Exception: The Cherokee Cabin is our luxury cabin and is reserved for two adults only.
Fireplaces
Each room or cabin has a gas fireplace, wood burning fireplace or gas-fired stove. All fireplaces are operated seasonally from October 15 – March 15.
Cabins with wood burning fireplaces will be supplied with enough wood and fire starter for one fire per day of your stay. Our staff will lay the fire for you to light at your convenience. We ask that you NOT add additional logs or other combustible material to the fire(s) we will prepare for you. Additionally, wood burning fireplaces should not be lit on the morning of your scheduled check-out day.
Taxes
Rates are subject to Buncombe County and North Carolina State Sales and Lodging taxes.
Amenities
Some amenities might not be available during special promotions with external advertising partners. If you are purchasing a stay at Engadine Inn And Cabins through a 3rd party (not directly with us), please call us to ask about the availability of amenities not specifically listed in the advertised promotion.
Pet Policies
Engadine Inn and Cabins offers three dog-friendly cabins: Looking Glass, Blue Ridge Mountains and Smoky Mountains. We do not allow pets of any kind in the Inn nor in the other Cabins. To ensure the safety and enjoyment of all of our guests, and the safety of our staff, we ask that you abide by the following policies.
* There is a cleaning charge of $25 per day of your stay..
* Limit of one (1) dog per cabin, 35 lb max (unless innkeepers have given prior approval in writing)
* Dogs must be up to date on all vaccinations and be free of fleas and ticks.
* Dogs must be on a leash and under your control at all times. This is for the protection of other dogs (including ours), our guests, and staff.
* Dogs must remain caged during times when you are away from the cabin or at times when you are not in their direct supervision.
* You are responsible for any damages caused by your dog, including cleaning, repairs to the Cabin or replacement of soiled or damaged furnishings or accessories.
* Special "dog" towels are provided in your cabin to dry or clean your dog. Please DO NOT use guest towels! Using guest towels to clean your dog will result in a charge of $25.00 per towel.
* Potty breaks of any kind should be confined to areas away from the Inn, the Cabins and our beautiful flowers and plants. Please pick up after your dog, regardless of where you are on the property (including wooded areas).
* Please be considerate of other guests when walking your dog.
* We reserve the right to ask guests with unsociable dogs (excessive barking, chewing, aggressive behavior) to leave the property. In this case, our early departure policies will apply (full payment for the entire stay at the then-current rate will be charged).
We appreciate your cooperation, which will allow us to continue to provide quality lodging for you and your pet!
About Our Rural Setting
Despite being only 15 minutes from the urban center of Asheville, ours is still a rural setting. As such, our neighborhood is home to a variety of small businesses, family farms, historic homes and, to the west of us, a 300+ acre wildlife preserve. The folks that live around us are great people who will make you feel genuinely welcome and who will appreciate that you chose to visit our community. But, as country folks, they, infrequently (usually during hunting season), like to hunt and/or target shoot in our general area. So, if you happen to hear the sound of gunfire on a sunny afternoon, don't freak out! Our neighbors aren't shooting at you…or each other! It's probably just a turkey shoot or someone hunting down a bear!